---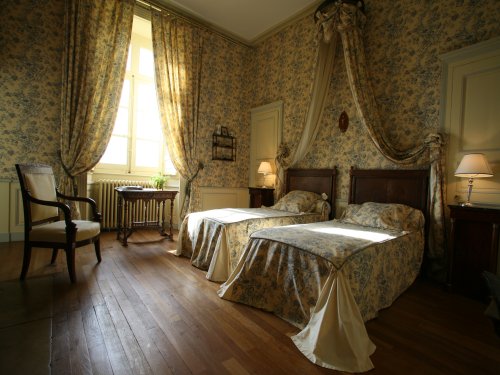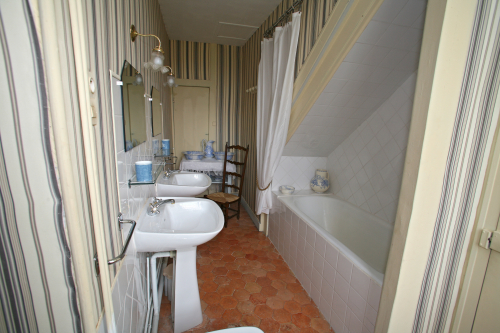 Some sentences from our guest book ...
-We think your château is wonderful ! We are sorry we could only stay one night. Thank you for your warm welcome.
London, England.
-Perhaps the first visitors of the new millenium ! We have enjoyed the experience of castle living and the cold April weather has been more than tampered with the warm reception and assistance from you and your family. We will return in the futur.
Glasgow, Scotland.
-A delightful visit - we especially enjoyed the ambiance at night - Good luck to Tanguy.
Newhall, CA, USA.
-Our visit at your really lovely castle was the last stay of our 10 days visit through the Loire Valley and Bretagne. But it was too one of the most beautiful moments here in France. Many thanks for your kindly hospitality, the warm welcome and the outstanding atmosphere of the landscape view and for all of the authenticity of this marvelloous castle. We will come back sometime to say hello.
Germany.


---

Yellow room:
- Located on the first floor, the Bleu room opens south with a view on the Sauldre valley and the garden.
-First night: 130 Euros per night.
-Second night and more: 115 Euros per night.



Bathroom and toilet en suite.




Yellow suite:
-Ideal for a familly with two childrens, the Yellow suite is composed of the above room and the bellow one. The two are interconnected.
-First night: 185 Euros per night.
-Second night and more: 160 Euros per night.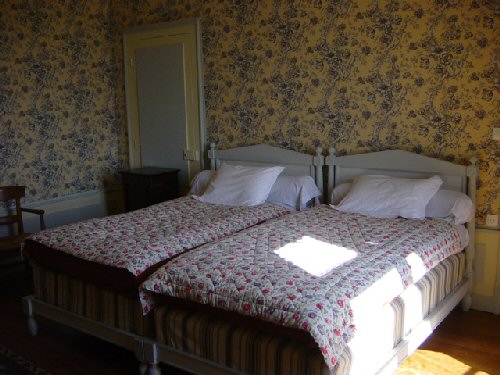 ---
Breakfast
The comfortable facilities are traditional and the breakfast is served in the banquet hall and included in the price of your room. This one is covered with Wifi, so that you can work from it.
Diner and "Guest Table"
Depending on the reservation of the day, we propose, only on reservation, one of the following 2 options :

- "The Guest Table" (minimum 6 people):
The host receive you for diner in the dining room. The diner includes an aperitif, a starter, a main course, cheese, desert and wine.
Price : 45€ per person.

- "Le Souper Sancerrois" (from 2 people):
To make your arrival enjoyable and avoid you to drive again, we propose a cold diner to enjoy between yourself. It includes a starter, a main course, a desert and 1/2 bottle of Sancerre wine.
Price : 28€ per person.

---
www.chateau-de-beaujeu.com
Tel: +33 (0) 2-48-79-07-95 / Fax: +33 (0) 2-48-79-05-07
---